');mask-image:url('data:image/svg+xml;utf8,');mask-mode:alpha;-webkit-mask-repeat:no-repeat;mask-repeat:no-repeat;-webkit-mask-size:contain;mask-size:contain;-webkit-mask-position:center;mask-position:center;border-radius:0}}.wp-block-latest-comments__comment{font-size:15px;line-height:1.1;list-style:none;margin-bottom:1em}.has-avatars .wp-block-latest-comments__comment{min-height:36px;list-style:none}.has-avatars .wp-block-latest-comments__comment .wp-block-latest-comments__comment-excerpt,.has-avatars .wp-block-latest-comments__comment .wp-block-latest-comments__comment-meta{margin-left:52px}.has-dates .wp-block-latest-comments__comment,.has-excerpts .wp-block-latest-comments__comment{line-height:1.5}.wp-block-latest-comments__comment-excerpt p{font-size:14px;line-height:1.8;margin:5px 0 20px}.wp-block-latest-comments__comment-date{color:#8f98a1;display:block;font-size:12px}.wp-block-latest-comments .avatar,.wp-block-latest-comments__comment-avatar{border-radius:24px;display:block;float:left;height:40px;margin-right:12px;width:40px}.wp-block-latest-posts.alignleft{margin-right:2em}.wp-block-latest-posts.alignright{margin-left:2em}.wp-block-latest-posts.wp-block-latest-posts__list{list-style:none}.wp-block-latest-posts.wp-block-latest-posts__list li{clear:both}.wp-block-latest-posts.is-grid{display:flex;flex-wrap:wrap;padding:0}.wp-block-latest-posts.is-grid li{margin:0 20px 20px 0;width:100%}@media (min-width:600px){.wp-block-latest-posts.columns-2 li{width:calc(50% - 20px)}.wp-block-latest-posts.columns-3 li{width:calc(33.33333% - 20px)}.wp-block-latest-posts.columns-4 li{width:calc(25% - 20px)}.wp-block-latest-posts.columns-5 li{width:calc(20% - 20px)}.wp-block-latest-posts.columns-6 li{width:calc(16.66667% - 20px)}}.wp-block-latest-posts__post-author,.wp-block-latest-posts__post-date{display:block;color:#6c7781;font-size:13px}.wp-block-latest-posts__post-excerpt{margin-top:8px;margin-bottom:16px}.wp-block-latest-posts__featured-image img{height:auto;width:auto}.wp-block-latest-posts__featured-image.alignleft{margin-right:1em}.wp-block-latest-posts__featured-image.alignright{margin-left:1em}.wp-block-latest-posts__featured-image.aligncenter{margin-bottom:1em;text-align:center}.edit-post-visual-editor .wp-block-latest-posts.is-grid li{margin-bottom:20px}.wp-block-media-text{direction:ltr;display:-ms-grid;display:grid;-ms-grid-columns:50% 1fr;grid-template-columns:50% 1fr;-ms-grid-rows:auto;grid-template-rows:auto}.wp-block-media-text.has-media-on-the-right{-ms-grid-columns:1fr 50%;grid-template-columns:1fr 50%}.wp-block-media-text.is-vertically-aligned-top .wp-block-media-text__content,.wp-block-media-text.is-vertically-aligned-top .wp-block-media-text__media{-ms-grid-row-align:start;align-self:start}.wp-block-media-text.is-vertically-aligned-center .wp-block-media-text__content,.wp-block-media-text.is-vertically-aligned-center .wp-block-media-text__media,.wp-block-media-text .wp-block-media-text__content,.wp-block-media-text .wp-block-media-text__media{-ms-grid-row-align:center;align-self:center}.wp-block-media-text.is-vertically-aligned-bottom .wp-block-media-text__content,.wp-block-media-text.is-vertically-aligned-bottom .wp-block-media-text__media{-ms-grid-row-align:end;align-self:end}.wp-block-media-text .wp-block-media-text__media{-ms-grid-column:1;grid-column:1;-ms-grid-row:1;grid-row:1;margin:0}.wp-block-media-text .wp-block-media-text__content{direction:ltr;-ms-grid-column:2;grid-column:2;-ms-grid-row:1;grid-row:1;padding:0 8%;word-break:break-word}.wp-block-media-text.has-media-on-the-right .wp-block-media-text__media{-ms-grid-column:2;grid-column:2;-ms-grid-row:1;grid-row:1}.wp-block-media-text.has-media-on-the-right .wp-block-media-text__content{-ms-grid-column:1;grid-column:1;-ms-grid-row:1;grid-row:1}.wp-block-media-text__media img,.wp-block-media-text__media video{max-width:unset;width:100%;vertical-align:middle}.wp-block-media-text.is-image-fill figure.wp-block-media-text__media{height:100%;min-height:250px;background-size:cover}.wp-block-media-text.is-image-fill figure.wp-block-media-text__media>img{position:absolute;width:1px;height:1px;padding:0;margin:-1px;overflow:hidden;clip:rect(0,0,0,0);border:0}@media (max-width:600px){.wp-block-media-text.is-stacked-on-mobile{-ms-grid-columns:100%!important;grid-template-columns:100%!important}.wp-block-media-text.is-stacked-on-mobile .wp-block-media-text__media{-ms-grid-column:1;grid-column:1;-ms-grid-row:1;grid-row:1}.wp-block-media-text.is-stacked-on-mobile.has-media-on-the-right .wp-block-media-text__media,.wp-block-media-text.is-stacked-on-mobile .wp-block-media-text__content{-ms-grid-column:1;grid-column:1;-ms-grid-row:2;grid-row:2}.wp-block-media-text.is-stacked-on-mobile.has-media-on-the-right .wp-block-media-text__content{-ms-grid-column:1;grid-column:1;-ms-grid-row:1;grid-row:1}}.wp-block-navigation.is-style-light .wp-block-navigation-link:not(.has-text-color),.wp-block-navigation .wp-block-navigation-link:not(.has-text-color){color:#1e1e1e}.wp-block-navigation.is-style-light:not(.has-background) .wp-block-navigation__container,.wp-block-navigation:not(.has-background) .wp-block-navigation__container{background-color:#fff}.wp-block-navigation.is-style-dark .wp-block-navigation-link:not(.has-text-color){color:#fff}.wp-block-navigation.is-style-dark:not(.has-background) .wp-block-navigation__container{background-color:#1e1e1e}.items-justified-left>ul{justify-content:flex-start}.items-justified-center>ul{justify-content:center}.items-justified-right>ul{justify-content:flex-end}.wp-block-navigation-link{display:flex;align-items:center;position:relative;margin:0}.wp-block-navigation-link .wp-block-navigation__container:empty{display:none}.wp-block-navigation__container{list-style:none;margin:0;padding-left:0;display:flex;flex-wrap:wrap}.is-vertical .wp-block-navigation__container{display:block}.has-child .wp-block-navigation__container{border:1px solid rgba(0,0,0,.15);background-color:inherit;color:inherit;position:absolute;left:0;top:100%;width:fit-content;z-index:1;opacity:0;transition:opacity .1s linear;visibility:hidden}.has-child .wp-block-navigation__container>.wp-block-navigation-link>.wp-block-navigation-link__content{flex-grow:1}.has-child .wp-block-navigation__container>.wp-block-navigation-link>.wp-block-navigation-link__submenu-icon{padding-right:8px}@media (min-width:782px){.has-child .wp-block-navigation__container{left:24px}.has-child .wp-block-navigation__container .wp-block-navigation__container{left:100%;top:-1px}.has-child .wp-block-navigation__container .wp-block-navigation__container:before{content:"";position:absolute;right:100%;height:100%;display:block;width:8px;background:transparent}.has-child .wp-block-navigation__container .wp-block-navigation-link__submenu-icon svg{transform:rotate(0)}}.has-child:hover{cursor:pointer}.has-child:hover>.wp-block-navigation__container{visibility:visible;opacity:1;display:flex;flex-direction:column}.has-child:focus-within{cursor:pointer}.has-child:focus-within>.wp-block-navigation__container{visibility:visible;opacity:1;display:flex;flex-direction:column}.wp-block-navigation-link__content{text-decoration:none;padding:8px 16px}.wp-block-navigation-link__content+.wp-block-navigation-link__content{padding-top:0}.has-text-color .wp-block-navigation-link__content{color:inherit}.wp-block-navigation-link__label{font-family:-apple-system,BlinkMacSystemFont,Segoe\ UI,Roboto,Oxygen-Sans,Ubuntu,Cantarell,Helvetica\ Neue,sans-serif;word-break:normal;overflow-wrap:break-word}.wp-block-navigation-link__submenu-icon{height:inherit;padding:6px 16px}.wp-block-navigation-link__submenu-icon svg{fill:currentColor}@media (min-width:782px){.wp-block-navigation-link__submenu-icon svg{transform:rotate(90deg)}}.is-small-text{font-size:14px}.is-regular-text{font-size:16px}.is-large-text{font-size:36px}.is-larger-text{font-size:48px}.has-drop-cap:not(:focus):first-letter{float:left;font-size:8.4em;line-height:.68;font-weight:100;margin:.05em .1em 0 0;text-transform:uppercase;font-style:normal}p.has-background{padding:20px 38px}p.has-text-color a{color:inherit}.wp-block-post-author{display:flex;flex-wrap:wrap;line-height:1.5}.wp-block-post-author__byline{width:100%;margin-top:0;margin-bottom:0;font-size:.5em}.wp-block-post-author__avatar{margin-right:16px}.wp-block-post-author__bio{margin-bottom:8px;font-size:.7em}.wp-block-post-author__content{flex-grow:1;flex-basis:0%}.wp-block-post-author__name{font-weight:700;margin:0}.wp-block-pullquote{padding:3em 0;margin-left:0;margin-right:0;text-align:center}.wp-block-pullquote.alignleft,.wp-block-pullquote.alignright{max-width:290px}.wp-block-pullquote.alignleft p,.wp-block-pullquote.alignright p{font-size:20px}.wp-block-pullquote p{font-size:28px;line-height:1.6}.wp-block-pullquote cite,.wp-block-pullquote footer{position:relative}.wp-block-pullquote .has-text-color a{color:inherit}.wp-block-pullquote:not(.is-style-solid-color){background:none}.wp-block-pullquote.is-style-solid-color{border:none}.wp-block-pullquote.is-style-solid-color blockquote{margin-left:auto;margin-right:auto;text-align:left;max-width:60%}.wp-block-pullquote.is-style-solid-color blockquote p{margin-top:0;margin-bottom:0;font-size:32px}.wp-block-pullquote.is-style-solid-color blockquote cite{text-transform:none;font-style:normal}.wp-block-pullquote cite{color:inherit}.wp-block-quote.is-large,.wp-block-quote.is-style-large{margin:0 0 16px;padding:0 1em}.wp-block-quote.is-large p,.wp-block-quote.is-style-large p{font-size:24px;font-style:italic;line-height:1.6}.wp-block-quote.is-large cite,.wp-block-quote.is-large footer,.wp-block-quote.is-style-large cite,.wp-block-quote.is-style-large footer{font-size:18px;text-align:right}.wp-block-rss.alignleft{margin-right:2em}.wp-block-rss.alignright{margin-left:2em}.wp-block-rss.is-grid{display:flex;flex-wrap:wrap;padding:0;list-style:none}.wp-block-rss.is-grid li{margin:0 16px 16px 0;width:100%}@media (min-width:600px){.wp-block-rss.columns-2 li{width:calc(50% - 16px)}.wp-block-rss.columns-3 li{width:calc(33.33333% - 16px)}.wp-block-rss.columns-4 li{width:calc(25% - 16px)}.wp-block-rss.columns-5 li{width:calc(20% - 16px)}.wp-block-rss.columns-6 li{width:calc(16.66667% - 16px)}}.wp-block-rss__item-author,.wp-block-rss__item-publish-date{display:block;color:#6c7781;font-size:13px}.wp-block-search{display:flex;flex-wrap:wrap}.wp-block-search .wp-block-search__label{width:100%}.wp-block-search .wp-block-search__input{flex-grow:1;max-width:360px}.wp-block-search .wp-block-search__button{margin-left:10px}.wp-block-separator.is-style-wide{border-bottom-width:1px}.wp-block-separator.is-style-dots{background:none!important;border:none;text-align:center;max-width:none;line-height:1;height:auto}.wp-block-separator.is-style-dots:before{content:"\00b7 \00b7 \00b7";color:currentColor;font-size:20px;letter-spacing:2em;padding-left:2em;font-family:serif}.wp-block-social-links{display:flex;justify-content:flex-start;padding-left:0;padding-right:0;margin-left:0}.wp-block-social-links .wp-social-link a,.wp-block-social-links .wp-social-link a:hover{text-decoration:none;border-bottom:0;box-shadow:none}.wp-social-link{display:block;width:36px;height:36px;border-radius:36px;margin-right:8px;transition:transform .1s ease}@media (prefers-reduced-motion:reduce){.wp-social-link{transition-duration:0s}}.wp-social-link a{padding:6px;display:block;line-height:0;transition:transform .1s ease}.wp-social-link a,.wp-social-link a:active,.wp-social-link a:hover,.wp-social-link a:visited,.wp-social-link svg{color:currentColor;fill:currentColor}.wp-social-link:hover{transform:scale(1.1)}.wp-block-social-links.aligncenter{justify-content:center;display:flex}.wp-block-social-links:not(.is-style-logos-only) .wp-social-link{background-color:#f0f0f0;color:#444}.wp-block-social-links:not(.is-style-logos-only) .wp-social-link-amazon{background-color:#f90;color:#fff}.wp-block-social-links:not(.is-style-logos-only) .wp-social-link-bandcamp{background-color:#1ea0c3;color:#fff}.wp-block-social-links:not(.is-style-logos-only) .wp-social-link-behance{background-color:#0757fe;color:#fff}.wp-block-social-links:not(.is-style-logos-only) .wp-social-link-codepen{background-color:#1e1f26;color:#fff}.wp-block-social-links:not(.is-style-logos-only) .wp-social-link-deviantart{background-color:#02e49b;color:#fff}.wp-block-social-links:not(.is-style-logos-only) .wp-social-link-dribbble{background-color:#e94c89;color:#fff}.wp-block-social-links:not(.is-style-logos-only) .wp-social-link-dropbox{background-color:#4280ff;color:#fff}.wp-block-social-links:not(.is-style-logos-only) .wp-social-link-etsy{background-color:#f45800;color:#fff}.wp-block-social-links:not(.is-style-logos-only) .wp-social-link-facebook{background-color:#1778f2;color:#fff}.wp-block-social-links:not(.is-style-logos-only) .wp-social-link-fivehundredpx{background-color:#000;color:#fff}.wp-block-social-links:not(.is-style-logos-only) .wp-social-link-flickr{background-color:#0461dd;color:#fff}.wp-block-social-links:not(.is-style-logos-only) .wp-social-link-foursquare{background-color:#e65678;color:#fff}.wp-block-social-links:not(.is-style-logos-only) .wp-social-link-github{background-color:#24292d;color:#fff}.wp-block-social-links:not(.is-style-logos-only) .wp-social-link-goodreads{background-color:#eceadd;color:#382110}.wp-block-social-links:not(.is-style-logos-only) .wp-social-link-google{background-color:#ea4434;color:#fff}.wp-block-social-links:not(.is-style-logos-only) .wp-social-link-instagram{background-color:#f00075;color:#fff}.wp-block-social-links:not(.is-style-logos-only) .wp-social-link-lastfm{background-color:#e21b24;color:#fff}.wp-block-social-links:not(.is-style-logos-only) .wp-social-link-linkedin{background-color:#0d66c2;color:#fff}.wp-block-social-links:not(.is-style-logos-only) .wp-social-link-mastodon{background-color:#3288d4;color:#fff}.wp-block-social-links:not(.is-style-logos-only) .wp-social-link-medium{background-color:#02ab6c;color:#fff}.wp-block-social-links:not(.is-style-logos-only) .wp-social-link-meetup{background-color:#f6405f;color:#fff}.wp-block-social-links:not(.is-style-logos-only) .wp-social-link-pinterest{background-color:#e60122;color:#fff}.wp-block-social-links:not(.is-style-logos-only) .wp-social-link-pocket{background-color:#ef4155;color:#fff}.wp-block-social-links:not(.is-style-logos-only) .wp-social-link-reddit{background-color:#fe4500;color:#fff}.wp-block-social-links:not(.is-style-logos-only) .wp-social-link-skype{background-color:#0478d7;color:#fff}.wp-block-social-links:not(.is-style-logos-only) .wp-social-link-snapchat{background-color:#fefc00;color:#fff;stroke:#000}.wp-block-social-links:not(.is-style-logos-only) .wp-social-link-soundcloud{background-color:#ff5600;color:#fff}.wp-block-social-links:not(.is-style-logos-only) .wp-social-link-spotify{background-color:#1bd760;color:#fff}.wp-block-social-links:not(.is-style-logos-only) .wp-social-link-tumblr{background-color:#011835;color:#fff}.wp-block-social-links:not(.is-style-logos-only) .wp-social-link-twitch{background-color:#6440a4;color:#fff}.wp-block-social-links:not(.is-style-logos-only) .wp-social-link-twitter{background-color:#1da1f2;color:#fff}.wp-block-social-links:not(.is-style-logos-only) .wp-social-link-vimeo{background-color:#1eb7ea;color:#fff}.wp-block-social-links:not(.is-style-logos-only) .wp-social-link-vk{background-color:#4680c2;color:#fff}.wp-block-social-links:not(.is-style-logos-only) .wp-social-link-wordpress{background-color:#3499cd;color:#fff}.wp-block-social-links:not(.is-style-logos-only) .wp-social-link-yelp{background-color:#d32422;color:#fff}.wp-block-social-links:not(.is-style-logos-only) .wp-social-link-youtube{background-color:red;color:#fff}.wp-block-social-links.is-style-logos-only .wp-social-link{background:none;padding:4px}.wp-block-social-links.is-style-logos-only .wp-social-link svg{width:28px;height:28px}.wp-block-social-links.is-style-logos-only .wp-social-link-amazon{color:#f90}.wp-block-social-links.is-style-logos-only .wp-social-link-bandcamp{color:#1ea0c3}.wp-block-social-links.is-style-logos-only .wp-social-link-behance{color:#0757fe}.wp-block-social-links.is-style-logos-only .wp-social-link-codepen{color:#1e1f26}.wp-block-social-links.is-style-logos-only .wp-social-link-deviantart{color:#02e49b}.wp-block-social-links.is-style-logos-only .wp-social-link-dribbble{color:#e94c89}.wp-block-social-links.is-style-logos-only .wp-social-link-dropbox{color:#4280ff}.wp-block-social-links.is-style-logos-only .wp-social-link-etsy{color:#f45800}.wp-block-social-links.is-style-logos-only .wp-social-link-facebook{color:#1778f2}.wp-block-social-links.is-style-logos-only .wp-social-link-fivehundredpx{color:#000}.wp-block-social-links.is-style-logos-only .wp-social-link-flickr{color:#0461dd}.wp-block-social-links.is-style-logos-only .wp-social-link-foursquare{color:#e65678}.wp-block-social-links.is-style-logos-only .wp-social-link-github{color:#24292d}.wp-block-social-links.is-style-logos-only .wp-social-link-goodreads{color:#382110}.wp-block-social-links.is-style-logos-only .wp-social-link-google{color:#ea4434}.wp-block-social-links.is-style-logos-only .wp-social-link-instagram{color:#f00075}.wp-block-social-links.is-style-logos-only .wp-social-link-lastfm{color:#e21b24}.wp-block-social-links.is-style-logos-only .wp-social-link-linkedin{color:#0d66c2}.wp-block-social-links.is-style-logos-only .wp-social-link-mastodon{color:#3288d4}.wp-block-social-links.is-style-logos-only .wp-social-link-medium{color:#02ab6c}.wp-block-social-links.is-style-logos-only .wp-social-link-meetup{color:#f6405f}.wp-block-social-links.is-style-logos-only .wp-social-link-pinterest{color:#e60122}.wp-block-social-links.is-style-logos-only .wp-social-link-pocket{color:#ef4155}.wp-block-social-links.is-style-logos-only .wp-social-link-reddit{color:#fe4500}.wp-block-social-links.is-style-logos-only .wp-social-link-skype{color:#0478d7}.wp-block-social-links.is-style-logos-only .wp-social-link-snapchat{color:#fff;stroke:#000}.wp-block-social-links.is-style-logos-only .wp-social-link-soundcloud{color:#ff5600}.wp-block-social-links.is-style-logos-only .wp-social-link-spotify{color:#1bd760}.wp-block-social-links.is-style-logos-only .wp-social-link-tumblr{color:#011835}.wp-block-social-links.is-style-logos-only .wp-social-link-twitch{color:#6440a4}.wp-block-social-links.is-style-logos-only .wp-social-link-twitter{color:#1da1f2}.wp-block-social-links.is-style-logos-only .wp-social-link-vimeo{color:#1eb7ea}.wp-block-social-links.is-style-logos-only .wp-social-link-vk{color:#4680c2}.wp-block-social-links.is-style-logos-only .wp-social-link-wordpress{color:#3499cd}.wp-block-social-links.is-style-logos-only .wp-social-link-yelp{background-color:#d32422;color:#fff}.wp-block-social-links.is-style-logos-only .wp-social-link-youtube{color:red}.wp-block-social-links.is-style-pill-shape .wp-social-link{width:auto}.wp-block-social-links.is-style-pill-shape .wp-social-link a{padding-left:16px;padding-right:16px}.wp-block-spacer{clear:both}p.wp-block-subhead{font-size:1.1em;font-style:italic;opacity:.75}.wp-block-table{overflow-x:auto}.wp-block-table table{width:100%}.wp-block-table .has-fixed-layout{table-layout:fixed;width:100%}.wp-block-table .has-fixed-layout td,.wp-block-table .has-fixed-layout th{word-break:break-word}.wp-block-table.aligncenter,.wp-block-table.alignleft,.wp-block-table.alignright{display:table;width:auto}.wp-block-table.aligncenter td,.wp-block-table.aligncenter th,.wp-block-table.alignleft td,.wp-block-table.alignleft th,.wp-block-table.alignright td,.wp-block-table.alignright th{word-break:break-word}.wp-block-table .has-subtle-light-gray-background-color{background-color:#f3f4f5}.wp-block-table .has-subtle-pale-green-background-color{background-color:#e9fbe5}.wp-block-table .has-subtle-pale-blue-background-color{background-color:#e7f5fe}.wp-block-table .has-subtle-pale-pink-background-color{background-color:#fcf0ef}.wp-block-table.is-style-stripes{border-spacing:0;border-collapse:inherit;background-color:transparent;border-bottom:1px solid #f0f0f0}.wp-block-table.is-style-stripes tbody tr:nth-child(odd){background-color:#f0f0f0}.wp-block-table.is-style-stripes.has-subtle-light-gray-background-color tbody tr:nth-child(odd){background-color:#f3f4f5}.wp-block-table.is-style-stripes.has-subtle-pale-green-background-color tbody tr:nth-child(odd){background-color:#e9fbe5}.wp-block-table.is-style-stripes.has-subtle-pale-blue-background-color tbody tr:nth-child(odd){background-color:#e7f5fe}.wp-block-table.is-style-stripes.has-subtle-pale-pink-background-color tbody tr:nth-child(odd){background-color:#fcf0ef}.wp-block-table.is-style-stripes td,.wp-block-table.is-style-stripes th{border-color:transparent}.wp-block-text-columns,.wp-block-text-columns.aligncenter{display:flex}.wp-block-text-columns .wp-block-column{margin:0 16px;padding:0}.wp-block-text-columns .wp-block-column:first-child{margin-left:0}.wp-block-text-columns .wp-block-column:last-child{margin-right:0}.wp-block-text-columns.columns-2 .wp-block-column{width:50%}.wp-block-text-columns.columns-3 .wp-block-column{width:33.33333%}.wp-block-text-columns.columns-4 .wp-block-column{width:25%}.wp-block-video{margin-left:0;margin-right:0}.wp-block-video video{max-width:100%}@supports ((position:-webkit-sticky) or (position:sticky)){.wp-block-video [poster]{object-fit:cover}}.wp-block-video.aligncenter{text-align:center}.wp-block-video figcaption{margin-top:.5em;margin-bottom:1em}:root .editor-styles-wrapper .has-pale-pink-background-color,:root .has-pale-pink-background-color{background-color:#f78da7}:root .editor-styles-wrapper .has-vivid-red-background-color,:root .has-vivid-red-background-color{background-color:#cf2e2e}:root .editor-styles-wrapper .has-luminous-vivid-orange-background-color,:root .has-luminous-vivid-orange-background-color{background-color:#ff6900}:root .editor-styles-wrapper .has-luminous-vivid-amber-background-color,:root .has-luminous-vivid-amber-background-color{background-color:#fcb900}:root .editor-styles-wrapper .has-light-green-cyan-background-color,:root .has-light-green-cyan-background-color{background-color:#7bdcb5}:root .editor-styles-wrapper .has-vivid-green-cyan-background-color,:root .has-vivid-green-cyan-background-color{background-color:#00d084}:root .editor-styles-wrapper .has-pale-cyan-blue-background-color,:root .has-pale-cyan-blue-background-color{background-color:#8ed1fc}:root .editor-styles-wrapper .has-vivid-cyan-blue-background-color,:root .has-vivid-cyan-blue-background-color{background-color:#0693e3}:root .editor-styles-wrapper .has-vivid-purple-background-color,:root .has-vivid-purple-background-color{background-color:#9b51e0}:root .editor-styles-wrapper .has-white-background-color,:root .has-white-background-color{background-color:#fff}:root .editor-styles-wrapper .has-very-light-gray-background-color,:root .has-very-light-gray-background-color{background-color:#eee}:root .editor-styles-wrapper .has-cyan-bluish-gray-background-color,:root .has-cyan-bluish-gray-background-color{background-color:#abb8c3}:root .editor-styles-wrapper .has-very-dark-gray-background-color,:root .has-very-dark-gray-background-color{background-color:#313131}:root .editor-styles-wrapper .has-black-background-color,:root .has-black-background-color{background-color:#000}:root .editor-styles-wrapper .has-pale-pink-color,:root .has-pale-pink-color{color:#f78da7}:root .editor-styles-wrapper .has-vivid-red-color,:root .has-vivid-red-color{color:#cf2e2e}:root .editor-styles-wrapper .has-luminous-vivid-orange-color,:root .has-luminous-vivid-orange-color{color:#ff6900}:root .editor-styles-wrapper .has-luminous-vivid-amber-color,:root .has-luminous-vivid-amber-color{color:#fcb900}:root .editor-styles-wrapper .has-light-green-cyan-color,:root .has-light-green-cyan-color{color:#7bdcb5}:root .editor-styles-wrapper .has-vivid-green-cyan-color,:root .has-vivid-green-cyan-color{color:#00d084}:root .editor-styles-wrapper .has-pale-cyan-blue-color,:root .has-pale-cyan-blue-color{color:#8ed1fc}:root .editor-styles-wrapper .has-vivid-cyan-blue-color,:root .has-vivid-cyan-blue-color{color:#0693e3}:root .editor-styles-wrapper .has-vivid-purple-color,:root .has-vivid-purple-color{color:#9b51e0}:root .editor-styles-wrapper .has-white-color,:root .has-white-color{color:#fff}:root .editor-styles-wrapper .has-very-light-gray-color,:root .has-very-light-gray-color{color:#eee}:root .editor-styles-wrapper .has-cyan-bluish-gray-color,:root .has-cyan-bluish-gray-color{color:#abb8c3}:root .editor-styles-wrapper .has-very-dark-gray-color,:root .has-very-dark-gray-color{color:#313131}:root .editor-styles-wrapper .has-black-color,:root .has-black-color{color:#000}:root .editor-styles-wrapper .has-vivid-cyan-blue-to-vivid-purple-gradient-background,:root .has-vivid-cyan-blue-to-vivid-purple-gradient-background{background:linear-gradient(135deg,#0693e3,#9b51e0)}:root .editor-styles-wrapper .has-vivid-green-cyan-to-vivid-cyan-blue-gradient-background,:root .has-vivid-green-cyan-to-vivid-cyan-blue-gradient-background{background:linear-gradient(135deg,#00d084,#0693e3)}:root .editor-styles-wrapper .has-light-green-cyan-to-vivid-green-cyan-gradient-background,:root .has-light-green-cyan-to-vivid-green-cyan-gradient-background{background:linear-gradient(135deg,#7adcb4,#00d082)}:root .editor-styles-wrapper .has-luminous-vivid-amber-to-luminous-vivid-orange-gradient-background,:root .has-luminous-vivid-amber-to-luminous-vivid-orange-gradient-background{background:linear-gradient(135deg,#fcb900,#ff6900)}:root .editor-styles-wrapper .has-luminous-vivid-orange-to-vivid-red-gradient-background,:root .has-luminous-vivid-orange-to-vivid-red-gradient-background{background:linear-gradient(135deg,#ff6900,#cf2e2e)}:root .editor-styles-wrapper .has-very-light-gray-to-cyan-bluish-gray-gradient-background,:root .has-very-light-gray-to-cyan-bluish-gray-gradient-background{background:linear-gradient(135deg,#eee,#a9b8c3)}:root .editor-styles-wrapper .has-cool-to-warm-spectrum-gradient-background,:root .has-cool-to-warm-spectrum-gradient-background{background:linear-gradient(135deg,#4aeadc,#9778d1 20%,#cf2aba 40%,#ee2c82 60%,#fb6962 80%,#fef84c)}:root .editor-styles-wrapper .has-blush-light-purple-gradient-background,:root .has-blush-light-purple-gradient-background{background:linear-gradient(135deg,#ffceec,#9896f0)}:root .editor-styles-wrapper .has-blush-bordeaux-gradient-background,:root .has-blush-bordeaux-gradient-background{background:linear-gradient(135deg,#fecda5,#fe2d2d 50%,#6b003e)}:root .editor-styles-wrapper .has-purple-crush-gradient-background,:root .has-purple-crush-gradient-background{background:linear-gradient(135deg,#34e2e4,#4721fb 50%,#ab1dfe)}:root .editor-styles-wrapper .has-luminous-dusk-gradient-background,:root .has-luminous-dusk-gradient-background{background:linear-gradient(135deg,#ffcb70,#c751c0 50%,#4158d0)}:root .editor-styles-wrapper .has-hazy-dawn-gradient-background,:root .has-hazy-dawn-gradient-background{background:linear-gradient(135deg,#faaca8,#dad0ec)}:root .editor-styles-wrapper .has-pale-ocean-gradient-background,:root .has-pale-ocean-gradient-background{background:linear-gradient(135deg,#fff5cb,#b6e3d4 50%,#33a7b5)}:root .editor-styles-wrapper .has-electric-grass-gradient-background,:root .has-electric-grass-gradient-background{background:linear-gradient(135deg,#caf880,#71ce7e)}:root .editor-styles-wrapper .has-subdued-olive-gradient-background,:root .has-subdued-olive-gradient-background{background:linear-gradient(135deg,#fafae1,#67a671)}:root .editor-styles-wrapper .has-atomic-cream-gradient-background,:root .has-atomic-cream-gradient-background{background:linear-gradient(135deg,#fdd79a,#004a59)}:root .editor-styles-wrapper .has-nightshade-gradient-background,:root .has-nightshade-gradient-background{background:linear-gradient(135deg,#330968,#31cdcf)}:root .editor-styles-wrapper .has-midnight-gradient-background,:root .has-midnight-gradient-background{background:linear-gradient(135deg,#020381,#2874fc)}:root .editor-styles-wrapper .has-link-color a,:root .has-link-color a{color:#00e;color:var(--wp--style--color--link,#00e)}.editor-styles-wrapper .has-small-font-size,.has-small-font-size{font-size:13px}.editor-styles-wrapper .has-normal-font-size,.editor-styles-wrapper .has-regular-font-size,.has-normal-font-size,.has-regular-font-size{font-size:16px}.editor-styles-wrapper .has-medium-font-size,.has-medium-font-size{font-size:20px}.editor-styles-wrapper .has-large-font-size,.has-large-font-size{font-size:36px}.editor-styles-wrapper .has-huge-font-size,.editor-styles-wrapper .has-larger-font-size,.has-huge-font-size,.has-larger-font-size{font-size:42px}.has-text-align-center{text-align:center}.has-text-align-left{text-align:left}.has-text-align-right{text-align:right}#end-resizable-editor-section{display:none}.aligncenter{clear:both}

Epoxy Flooring & Concrete Sealing
Garage Epoxy Floor Coatings | Polyaspartic Garage Flooring
Commercial – Residential – Industrial
Jobs that we specialise in:

At PolFloors, we offer a full line of garage floor coatings, sealing and epoxy flooring services – Polyurea Floor Coatings, Epoxy Floor Coatings, Concrete Sealing, Concrete Polishing, Concrete Paint.Our floors provide high performance solutions in a variety of settings that include the following:
Kitchen Flooring (Commercial and Residential)
Bathrooms, Toilets, Lounge Rooms
Reception Areas, Showrooms, Shop Floors, Workshops
Chemical Rooms, Churches, Warehouses, School Floors
Car Parks
Pathways
Patios, Decks, Pool Deck
Staircases
Epoxy Concrete Floor Finishes
We have been serving for many years and proudly providing only high-standard, quality floor coating, driveway resurfacing, epoxy garage flooring, grinding, polishing and treatments using products from the world's leading manufacturers. At Polfloors we pride on giving great Service and Quality in Brisbane, Gold Coast, Sydney, Perth and Melbourne.



Areas we service: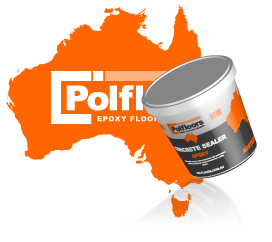 Garage Floor Coatings
Our floor coatings provide the best protection from chemical, petrol and oil stains, and are the perfect seamless coating for the tough environment of most household garage epoxy resin floors.
Sealing
Concrete sealing or epoxy flooring is one of many garage flooring options available today. Sealing benefits:
improve the appearance of concrete by adding richness and luster
protect decorative concrete from the harsh Australian weather
resist the marking effects of salt, grime, dirt, oils and moss
make concrete much easier to wash and clean
seal the pores in the concrete to restrict the flow of lime to the surface
Why choose our company
100% Satisfaction Guarantee
Large teams available for large commercial jobs.
Complete Work Health & Safety Documentation
Jobs completed on time and within budget.
Provide Internal & External Solutions.
We understand the preparation of the concrete is key and work hard to ensure yours is crack and paint free prior.
Locally owned and operated company.
Superior workmanship and continued support.

A DIY guide on how to apply an epoxy garage flooring
It's not difficult to learn the basics of applying an epoxy garage floor or epoxy flooring. There are several easy 8 step plans available on the internet, as well as many short videos which make the task look really very easy. Once you decide to get started, that's when you realize that the finer details of applying an epoxy coating are actually more difficult than expected. As a result, you end up having more questions than answers.
Note: please be mindful that this guide does not invalidate any definite instructions given by the manufacturer. If any doubt, always contact the manufacturer for any queries you may have.
This DIY garage floor epoxy flooring application guide is a more detailed and comprehensive hand-book of instructions on epoxy garage flooring. In this guide, we will cover the process of application of a multiple coat floor system consisting of primer coat, 100% solids epoxy base coat (with or without color flakes), and a
polyurethane
, polyurea, or
epoxy
top coat. This manual can also be used as a guide for epoxy flooring / applying single coat 100% solids epoxy garage floor kits as well as for the one day floor coating (DIY quick cure
polyaspartic
and polyurea).

Epoxy flooring options and colors















PolFloors :: Residential, Commercial & Industrial
Our coatings are available in a versatile palette of colors and finish options ranging from smooth, high gloss coatings to seeded systems that provide non-slip footing, increased thickness and improved durability. We can create combinations of primers, coatings, toppings and sealers to create almost any effect. Whether Industrial, Commercial or Residential, PolFloors floor coating systems provide the "state of the art" of high performance epoxy resin floors. Give us a call for free epoxy flooring quote.
Testimonial
We were referred to PolFloors from a neighbor. Not only was Joanna very professional, but she was also so prompt in scheduling an appointment for us! Now this is quote clear why they have been rated with 5 stars by so many customers. They fixed inconsistencies on the floor before they began laying the flooring which is extremely important. It is more gorgeous than we anticipated!!! We are very pleased and are extremely happy with our new garage floors! Thank you guys!Marek, Wavell Heights
These guys are unbelievable. The did the job in just two days and now my garage floor looks amazing. Now the floor is clean and easy to maintain. I'd highly recommend this company! Ted, North Brisbane
PolFloors did an awesome job on my garage floor! Jo was able to come out and give me a quote right away. She was very laid back and didn't pressure me on anything. I would definitely recommend this company! Anna, Brisbane